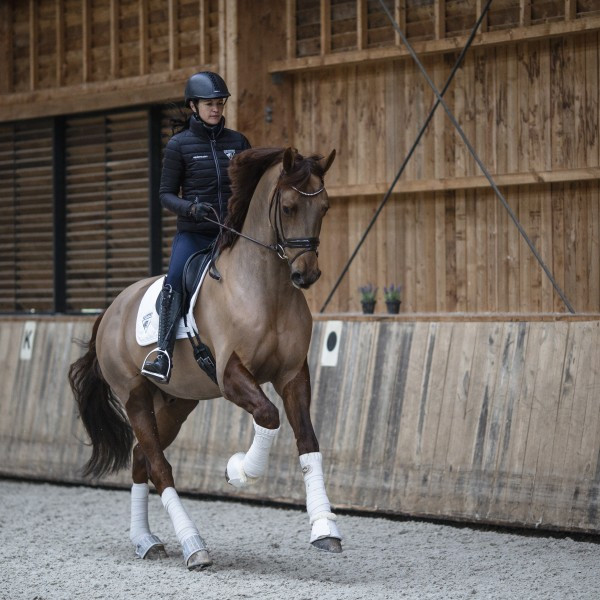 She started riding when she was 9 and her grand-parents offered her a course at a pony-club as a gift. She entered her first pony competitions when she was 13, first in show jumping, then later in eventing and dressage.
After becoming French dressage champion in Lamotte-Beuvron in 1999, she began her initial training at the Cadre Noir in Saumur in September 2000. In 2004, she finished top of her BEES 2 (Riding instructor) class and had just started working in the South of France when Xavier Marie approached her. Together they set up the Haras de Hus project and she became the head of the dressage section in 2007.
This was also the year when she won the Bronze medal at the World breeding dressage championships for 5-year-old horses with Noble Dream. This achievement remains unmatched by a French rider as of today.

Coached by the famous German trainer Hans Heinrich Meyer zu Strohen, she entered her first international Grand Prix with Riwera de Hus in September 2011. She had an amazing competition season, rising from 65 % to 76 % in the space of a few months.
She qualified for the semi-finals at the London Olympics in 2012.

After the London Olympics, she was selected with Riwera de Hus to join the French team for the 2013 European championship in Herning and managed the best French performance after finishing 8thin the team competition at the European championship.

The following year, she was selected to compete in the 2014 World Equestrian Games in Caen with Riwera de Hus.

She enjoys schooling horses from A to Z and have ridden several horses to Grand Prix level: Riwera de Hus, Daimler de Hus, Socrate de Hus, Don Juan de Hus, Hermès de Hus, Fusion de Hus.

French dressage championships
31-time French champion
Dressage Championships
51 podium performances at championships
World's Championships
Bronze medal
London Olympics
Olympics semi-finals