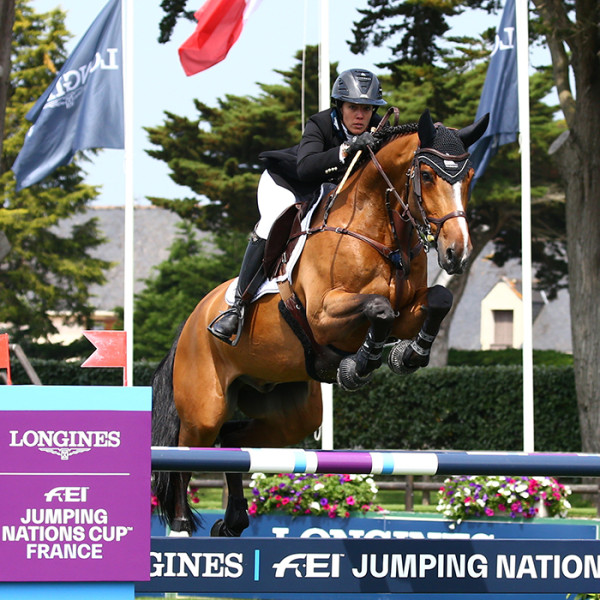 About: Gudrun started riding at a very early age and was already in the pony jumping classes very successful. At the age of 13 she became Belgian Champion Children with Nelke van het Waterschoot, a horse who was bred by her parents. As Junior and Young rider she also got the Belgian titles and she was also very successful in National and International classes and at several European Championships where she won Team medals.
As Senior she started already in her first year by winning the Cup of Belgium and right now she's performing on 5* level with several horses. For Gudrun it is very important that she can start working with youngsters whom she can bring to the highest level herself. The prove of this is winning the World Championship for 7 year olds at Zangersheide in 2013 with Sea Coast Atlantic, winning the Belgian Championship for 7 year olds in Lummen in 2015 with Sea Coast Ideo D'O and a 9th place at the World Championship for 7 year olds at Zangersheide in 2015 with Sea Coast B52F Z. Now all these horses act on 4 and 5* level with Gudrun.

Being part of team Equistro: I'm using the Equistro products since 2010 and for me not only the effeteness' is important but also that the products are not positive in FEI doping tests.
I'm giving all my horses on the higher level Flexadin UCII as well to prevent injuries as to keep the joints flexible. To support the muscles I use Excell E and if necessary in combination with Azodine. I also feed Chrysanphyton to some of my horses if needed and of course Elektrolyt and Elytaan where needed.

Products as Respadril and Elimination I always have at the barn.

I'm happy to have the support of Equistro and belong to the Equistro family.